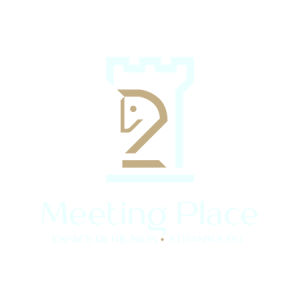 Meeting Place, you meeting room in Strasbourg
Reserve a meeting room near the center of Strasbourg
With Meeting Place, you can rent a meeting room, a job training room or a seminar room near the center of Strasbourg
Meeting Place lets you rent a multipurpose room with welcoming atmosphere allowing you to organize meeting up to eight people.
Well suited for the business meeting, Meeting Place is perfect to set up a rendez-vous efficiently without losing any time: Meeting Place is well situated at 10min away from Strasbourg central station and 15min away from Strasbourg airport.
The urban layout and the high density of quality transport serving the neighborhood are all reasons in favor of organizing meeting or seminar with Meeting Place in a dynamic and easy to access place.
The Meeting Place's offer
The offer of Meeting Place is to provide you with a meeting room, but also with any piece of equipment that you may need in our professionals exchanges
We propose you a configuration that is well-suited for the discussions and ideal for business meetings, job trainings, seminars or brainstormings…
The ambient lighting of our room ensures a level of confort that helps improving the productivity of yours meetings.
Are you looking for a meeting room?
Bring easily your collaborators together thanks to the proximity of the Strasbourg central station and the airport of Strasbourg.
Meeting Place proposes you a cozy and well-lit meeting room whose furniture is elegant and functional allowing you to set up meeting up to eight people.
The meeting room of Meeting Place is also a place that boosts the creativity in order for teams to easily solve their issues.
Are you looking for a presentation room?
Enjoy a perfect location for the presentation of your new product or any other related services with Meeting Place.
Meeting places proposes you to rent a room in Strasbourg in order to organise your presentations under the best possible conditions. Our valuable pieces of equipment are here to back you up and assure the quality of your presentations.
You will be using a perfect room in terms of capacity (up to eight people) and coziness located in a well-lit and modern environment.
Are you looking for a training room?
Find a room to organize a job training in Strasbourg in one to one or with a group (up to 8 people), nothing could be easier with Meeting Place Strasbourg which provides a training room equipped with a TV screen allowing you to project your presentations, wi-fi, paperboard, etc…
This workspace will undoubtly motivate your co-workers or your customers.
Practical information – Equipment & services
Informations
Strasbourg is at a major transport junction which easily links several European axes. The geographic location of Strasbourg, in addition to its central train station and its airport, made many companies chose the city to establish their headquarters.
The 6 operational tram lines in Strasbourg make it easy to move around the city and allow to effectivelly transit from and to the central train station.
Ideally located, Meeting Place offers a central location an allowing easy access from all types of transport while remaining close to all facilities.
Transport : Tram D, bus, parking lots, taxi

Shop: Food, shops, cultural leisure, sport

Restore : Bakery, restaurants

Health and Public Services : Pharmacy, laboratories, specialist doctors

Education: Nursery, school, college, high school
Our equipments and services

TV screen,
Videoconferences

Paperboard

WiFi

Printer, scanner,
photocopier

Notepad & pen

Coffee, tea, water
Restauration
Come by tram
From Strasbourg train station, line D allows you to reach the Meeting Place in 10 minutes.
From Meeting Place, you are 200 meters away from the Marcel Rudloff tram station and 250 meters away from the Paul Eluard tram station.
Come by car
Near the highway exits (highway at 250m), several parkings located around Meeting blocPlace allow you to come by car and park during your meeting time.
You can also come from Entzheim Airport via the A35 highway in less than 15 minutes.
Rental by hour : 40€/h

Rental by half-day : 120€

Rental by day : 250€

Photocopier use :

Black and white : 0,05 cents/copy

Color : 0,10 cents/copy

Notepad and pen : son request

Breakfast service on request

Lunch service on request
About
Set up by Idealice Agency, Meeting Place is a collaborative space based on discussion, sharing, and creativity.
The Idealice Agency is specialized in communication strategy and digital marketing.
Aware of the difficulty of finding a meeting room close to all facilities and public transports, the Idealice Agency has designed a co-working space called Meeting Place, which meets several specificities : location, reception capacity, equipment, operational and functional configuration, wellcoming atmosphere
These differents points make Meeting Place a space well-fitted for discussions, sharing of ideas and that stimulates the creativity
Whether it is a business meeting, job training, or a presentation, Meeting Place promotes and optimizes your time and your work
In search of the ideal place in Strasbourg, you have found it : the Meeting Place is the suitable place for all your events